DEPARTMENT PROFILE
The Department of Chemistry was set up at the inception of the college and was affiliated to Bombay University and later to Goa University since 1986. The first head of Department was the Principal , Dr.Y.V.Lawande..
The Department is actively involved in collaborative research programme with Department of Atomic Energy, Bombay and has a tie up with National Institute of Oceanography for student related project activities as well as for conducting seminars, workshops, conferences for students, teachers and for public awareness.
The Department has a very active Chromophore Club. The club conducts activities like, invited guest lectures, Quiz, seminar by students, essay and poster competitions industry visit, heritage tour etc. The club also comes out with a yearly bulletin 'Chromophore'.
In past the department conducted course on 'Nutrition for body and mind' for staff and students of the college. The resource persons were renowned nutritionist from the state and ayurvedic doctors.
Another course conducted by the department was 'Ayurvedic Preparations' of oils, creams, packsand herbal tea and syrups. The resource person was Dr.Aditya Samant from Ayurvedic College, Shiroda Goa.
Our students have been successfully placed in industry, research and Academics
The Department has successfully completed one major research project entitled " Synthesis and characterization of Pyrochlore materials " funded by UGC –DAE-CSR.The Principal Investigator was Dr Mrs. Vrinda Borkar and student Investigator was Ms Rajashree Karmali .
Another major project entitled "Environmental impact assessment of ground water quality of Mhadei River Basin with respect to microbiological, chemical and geological parameters" has been sanctioned by the UGC wherein one departmental staff member Mrs Varsha Virginkar is the co- investigator.
The research cell of the Department has two publications
Synthesis and structure of tris (acetylacetonato) aluminium III –authored by Manisha Shirodker, Vrinda Borkar, Nather ,W Bensch and K.S Rane in Indian Journal of chemistry -2010.
Bactericidal Action of N doped ZnO in sunlight –authored by Rajashree S. Karmali, Amruta Bartakke, Vrinda Borkar, and K.S. Rane in Biointerface Research in Chemistry, April, 2011.The Department conducted one day Seminar on "Crystallography" on the 13th of Dec. 2010
where in the resource person was Dr Cora Lind –Associate professor –Toledo University –USA.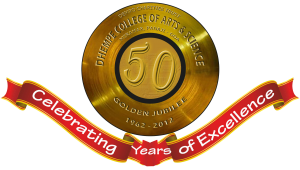 The Department conducted the Ninth Annual convention of "Association of Chemistry Teachers"-Goa on the 5th Feb 2011.
No. of Teaching and Administrative staff :
No. of seminars / conferences organized : 4
No. of Research Projects completed :
Major Projects: 1
Minor Projects: 6
No. of Ongoing Projects completed : NIL
Clubs :
Name: Chromophore
Activities: Chemistry exhibition was organized under 'The Chromophore Club' on 3rd of March 2016 from 10.00 am to 4.00 pm in the Department Of Chemistry. Dr Vrinda Borker coordinated the exhibition. Teachers, Miss Gauri Silimkhan and Akshata Naik also helped the students in displaying the exhibits. Some Physics projects were also on display. Students and teachers from Arts section as well as Science section of the College attended in large numbers. Students and faculty of T.B Cunha higher secondary and Dhempe Higher Secondary schools too attended the exhibition. The Principal and Vice Principals attended the exhibition.
Activities: Valedictory Function of Chromophore club was held on 23/3/2016. Dr Avinash Kamat Dhakankar delivered a talk on Health of Women. He distributed prizes to prize winners Chromophore Bulletin was also released on that day.
Details of Value Addition courses :
Name: Physico-Chemical and microbiological parameters in drinking water-Interdisciplinary course of the Department of Chemistry and Zoology
Name: Summer course 'Analytical Tools' in April held at NIO
Name: Internship Program at Syngenta India Ltd. For 5 students during May 2015