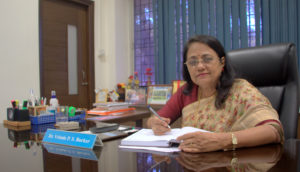 From the Principal's Desk
Our institution hinges on the core belief that education is not a destination; it is, rather, a process – a process of sharing knowledge and receiving it, of igniting noble thoughts and keeping them kindled, of learning history and also creating it and of moreover, being a conduit to ensure that the indomitable energy of human genius keeps flowing in the right direction. Therefore, this year, like every year but even more vigorously, we undertook the process of learning, unlearning and relearning. While the process continues relentlessly even as I pen this down, it is time to take a brief hiatus and cast a retrospective glance at the year that has gone by.
Our students once again excelled in the University examinations held at Third Year level and made us proud. The passing percentage for TYBSc was 86.75% and TYBA, 77.6%. Our students – Andrei de Souza (Geology), MD. Suleman Shaikh (Chemistry), Sofia Dhamani (Pyschology), Charmaine Lobo (Economics), Satyajit Pereira (Zoology) and Samreen Khan (Chemistry) – emerged as rank-holders at the University level and crowned us with the glory of their achievements.
Apart from the 'A' Grade by NAAC, the Green certification by GSCP and ISO certification, this year we achieved yet another feat when our college was ranked between 150-200 band by the National Institutional Ranking Framework under the aegis of MHRD.
Our sustained efforts at developing global interface in teaching-learning bore fruit this year in the form of the Sakura Science Exchange Program as a result of which a faculty member from the Department of Chemistry along with 10 students visited the reputed Toyo University in Japan and got acquainted with cutting-edge research being undertaken in the discipline.
This year, we broke new ground in pedagogy by facilitating the integration of Flipped Learning in the existing teaching methodology. This year, yet again, we treaded newer paths in the field of research by organizing Conferences, Seminars and Workshops on issues of immediate as well as futuristic relevance to society.
This year, we went a step ahead and signed an MoU with Sangath – an NGO committed towards enhancing health across life-span. After the successful edition of Ebullience 1.0, this year too, the institution organised the intercollegiate Sports Festival Ebullience 2.0 with the sportspersons of the College at the helm of the organising process.
In light of our commitment to holistic welfare of society, this year, apart from cleanliness drives, blood donation camp, vermicomposting workshops, social awareness rallies and street plays, the College established a collaborative association with the flagship projects of Dempo Vishwa Gramshala by initiating an interface with Government High School, Pernem and Government High school, Curdi.
Education is perhaps one of the greatest gifts you can give an individual. Driven by this belief of our founders, it is our institution's dream to ensure that no student is deprived of quality education due to economic deterrence. Therefore, in addition to the various scholarships provided by the government and endowment prizes instituted by well-wishers, this year our College decided to take one more humble albeit significant step towards the motto of 'Education for Everyone'. Our institution started a project called 'Dyaandaan – Motivate, Educate, Inspire' under the aegis of which teachers of the College will be sponsoring the education of a deserving and needy student.
Thus has been the year that has gone by. Ambidextrously we are doing both – sustaining the already achieved landmarks as well as laying foundations for new ones. While keeping abreast of all these developments and imbibing change to the best of our abilities, we are keeping our core endeavour at the crux of our enterprise – building a positive and synergetic ecosystem where individual development is not dichotomous with but is integral to societal development.
Principal
Vrinda Borkar