The Department of Zoology was established in 1981.
The strength of department lies in well qualified experienced faculty. The staff members of the Department are always approachable to the students and assist them in proactive learning. In addition to classroom duties, the staff members conduct a variety of activities to equip the students to successfully face future endeavors. Programs such as workshops, talks by renowned scholars, educational field trips to national laboratories, Wild life sanctuaries, Zoological parks, Museum and other places of zoological importance are regularly conducted by the department.
The department has developed state-of-art laboratory facilities with instruments like UV-VIS Spectrophotometer, CO2 Incubator, BOD Incubator, Bacteriological Incubator, Electrophoresis units, Analytical Balances, Research centrifuges, Binocular microscopes, Inverted Microscope with Phase contrast attachment, Stereo-Zoom Microscopes, DO meter and so on.
The department has been organizing a number of workshops for enriching the course-content as well as teaching skills. A state level workshop to review Zoology Syllabus of Semester I & II for the college teachers was organized by the department in March 2010, an Orientation course for Higher Secondary teachers in Nov.2010, a National level conference in February 2011. Similarly, a Two-day Need-based Workshop to Review Zoology Syllabus of Semester V & VI was conducted in April 2012, the recommendations of which have been accepted by the Board of Studies in Zoology and implemented in the curriculum. Thus, the teachers of Zoology department participate in curriculum design, have served as BOS members and actively contributed to examination work at Goa University.
Principal Dr. Yasmin Modassir, and Mrs. Suchana Amonkar have undertaken Major research projects funded by National funding agencies like UGC, DOD and DST. Dr. Yasmin Modassir has published many original research papers in peer reviewed National and International scientific Journals. She is a recognized guide for M. Phil. and Ph. D. degree in the subject of Zoology.
Students of Zoology have excelled in Academics and extra-curricular activities. They have won accolades at various competitions. Our alumni are gainfully employed in various sectors of administration, education, and scientific research, in India as well as countries abroad.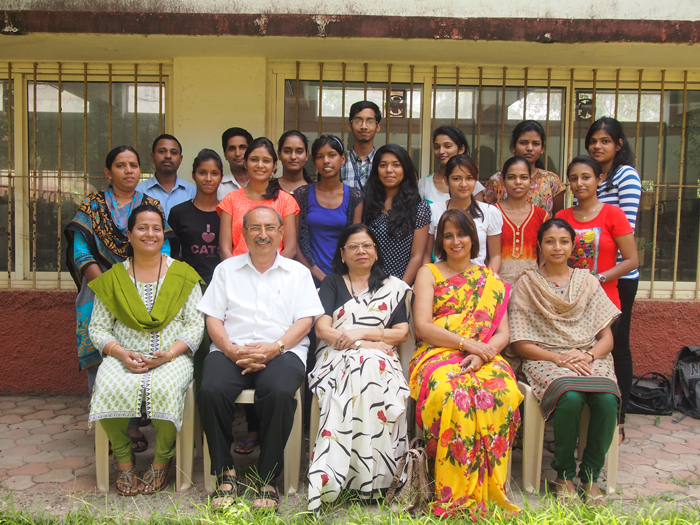 No. of Teaching and Administrative staff: 9
No. of Research Projects completed
Major Projects: 4
Minor Projects: 4
No. of seminars / conferences organized: 20
No. of Ongoing Projects
Major Projects: –
Minor Projects: –
Clubs
Name: Nature Club
Activities: The Nature Club of the Department Organized a poster competition on "Mhadei Lifeline of Goa" on 24th August 2016 under Personality enhancement Programme. 16 posters from B.Sc. / B.A. / Biotechnology Students were exhibited.
Details of Value Addition courses :
Name: : ED Programme on fish farming and fishery products
Duration: 2-3 days
Significance of Course: The Course is aimed at motivating the students to improvise their technical skills and giving them an opportunity to become self- employed. Training is imparted in various fields like mussel culturing, crab culture, open cage culture, fabrication of aquarium tank and preparation of various fish based and value added products.